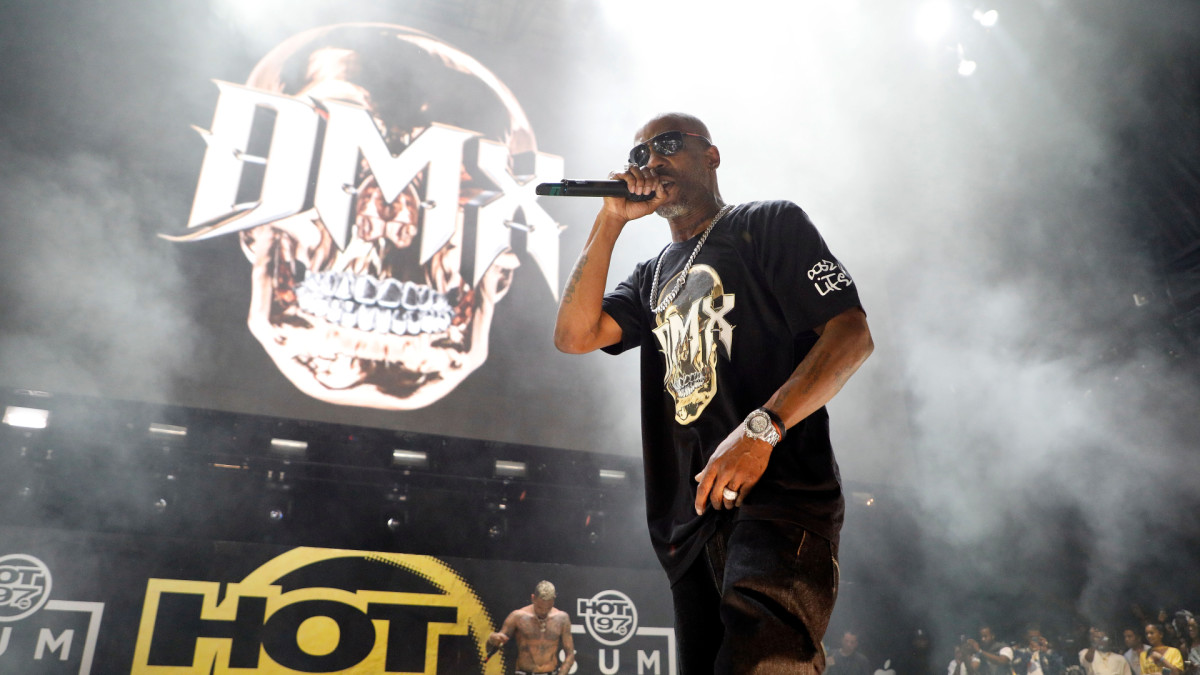 The turmoil that often surrounded the sessions for DMX's still-not-officially-released gospel album is the subject of an insightful new report detailing the late icon's dedication to his artistry, even during times when the outside world threatened his process.
The Rolling Stone report, published Tuesday, focuses on a late 2000s chapter in DMX's life during which he resided in Arizona. While there, X had outlined his plans to write and record a double album titled Walk With Me Now and You'll Fly With Me Later, with the second half (as was reported at the time) serving as a gospel project.
Due to a variety of developments, the double album was never released in the form DMX had originally intended. But the story behind its creation, which includes recollections of X and producer (and eventual manager) Pat Gallo dealing with "constant police surveillance," points to the value of those sessions within the larger context of X's career.
The majority of the gospel tracks, per the new report, were recorded in one night in 2008. As Gallo recalled, that particular evening marked one during which he was struggling to get DMX into the studio. When X did arrive in the early morning hours, he is said to have smoked crack in an upstairs restroom before emerging to tell Gallo to play a beat, at which point he "rapidly wrote a song" and recorded it in a single take. This method was repeated several times in a row, with X ultimately having penned and recorded seven gospel tracks by the time a new day was beginning.
Gallo is quoted in the piece as saying he sometimes felt as though he "enabled" DMX with regards to his struggles with addiction. He also reflected on the heavy police presence of this period and briefly recalled once taking X to the hospital for breathing problems. "He knew I would always be there," Gallo said.
As for the police behavior, including a highly publicized raid, infamous Trump-supporting former sheriff Joe Arpaio ​​​​​​was in power in Maricopa County at the time. Arpaio, notably, was named in multiple federal civil rights lawsuits throughout his law enforcement career. In 2017, he was found guilty of criminal contempt in connection with a court order over racial profiling. That same year, Trump pardoned him.
The status of X's gospel project, meanwhile, remains unclear. In Tuesday's Rolling Stone report, it's stated that businessman Howard Mann has claimed that he has the rights to a number of DMX songs. Mann alleges that X signed over the rights to the gospel album to him, though the two didn't speak in the last years of the artist's life.
Entertainment lawyer Ron Sweeney, however, is quoted as saying that X's estate (now operated by his and Tashera Simmons' three oldest sons) is not involved with any such claims. "Howard Mann has no authority that we're aware of and hasn't shown us anything to reflect that he owns any music that DMX recorded," Sweeney, who now represents the sons, said. Gallo has also expressed disbelief of Mann's claims.
For more, including info on DMX's initial plans to tour the gospel project and eventually helm his own House of the Afflicted church, click here.
Back in November HBO released the DMX documentary Don't Try to Understand as part of its larger Music Box series. Director Christopher Frierson recently spoke with Complex about the process behind the film, including an initial interview idea that ultimately never panned out. Revisit that discussion here.